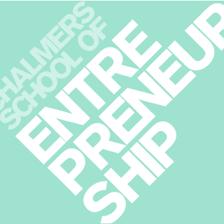 A two-year master program started in 1997 by two faculty members, Chalmers School of Entrepreneurship (CSE) today has four different tracks – technology, bioscience, corporate and intellectual property – accepting a total of around 50 students each year. The program has a strong venture creation track record with around 80 ventures still up and running, employing some 500 people and with a total annual turnover of €60m. A key success factor has been the establishment of a separate legal entity named Encubator, handling idea providers, equity issues and business coaching, and acting as a holding company for incorporated ventures. Key challenges have been financial sustainability and development of entrepreneurial faculty.
Aims and methods
The aim of the program is to develop entrepreneurial individuals prepared for sustainable business development in the knowledge economy. The program utilizes an action-based pedagogy where innovation and entrepreneurship is experienced hands-on and not only taught in classrooms. The education combines a distinguished academic Master's program with real-life innovation management and venture creation of technology and bioscience innovations. The program is an integrated part of Chalmers' strategy of being an entrepreneurial university . In 2009 an international peer review commissioned by the Swedish government gave the program the highest ranking in Sweden. Teams of two or three students are matched with a scientist or innovator to take forward a business idea into a business. At the end of the process, business ideas have the potential to be incorporated, with both students and the scientist/innovator taking ownership through shares in the newly formed business.
Background
In 1995, Mats Lundqvist and Sören Sjölander, at the department of innovation management at Chalmers, initiated development of an entrepreneurship masters program based on reflection that there was a human resource gap between university research and the marketplace. This gap could be filled by individuals willing to take viable ideas, develop business strategies and take them to the market. The program was launched in January 1997 as a one year masters-level program. In 2001, substantial developmental steps were taken, such as opening the program to students outside of Chalmers and setting up a separate legal entity called "Encubator", gradually taking over the responsibility for many of the interactions with the outside market and society. In 2007, the program became a two year international master's program in line with the Bologna process.
Key partners
The primary partner is Encubator, an integrated incubator that works in synergy with the program, but with a business prioritization. Encubator was created and co-founded by Chalmersinvest, a wholly owned daughter company of the Chalmers Foundation, providing seed-investment. Public actors such as Västra Götalandsregionen, Business Region Göteborg and Vinnova are key partners external to the university environment. University of Gothenburg has been an important collaborator in facilitating an interdisciplinary setting. The program also builds upon a large network of external business actors and organizations, as well as program and university alumni, to contribute content, coaching and other resources to the action-based pedagogy.
Achievements
Since its establishment in 1997, CSE has educated around 300 students. Around 50 ventures are still up and running, having been incorporated as a result of the student venture projects. These ventures have a total market value today of around €50m with an annual turnover of around €35m. The most successful ventures so far are Vehco, Avinode and Oxeon, employing around 250 people. Vehco supplies mobile IT for the transportation sector. Avinode is a global aviation broker for private jets. Oxeon is an advanced materials company. CSE has a very active alumni network where around 100 people meet every year at a conference focusing on various kinds of new value creation.
Key challenges
The main challenge has always been about financing the program. Most financial resources have been in the form of project funding, although there has been a minor endowment given to the school. Another key challenge has been to develop entrepreneurial faculty. The career paths for academics simultaneously engaging in action learning and research are challenging. A key challenge has also been the inability of traditional incentive structures and organizational leadership to adapt.
Funding
CSE receives funding for each enrolled student. However, this amount does not cover the cost of running the program and there is a need for additional funding from other sources. Additional funding has come from various sources. Funding organizations have included the public actors Västra Götalandsregionen, Business Region Göteborg and Högskoleverket. Each student ventures receives €20.000 each, majority of which requires matching with private money. This money is supplied by public venture capital entities.
Contact
Mats Lundqvist, program director
mats.lundqvist@chalmers.se
Website: www.entrepreneur.chalmers.se